Mediterranean Revival
At its peak in popularity in the 1920s and 1930s, the Mediterranean Revival style incorporated elements from the Beaux Arts, Italian Renaissance, Spanish Colonial Revival, and other styles. The style is based on capturing the warm and relaxing feel of a Mediterranean villa or seaside palace and was particularly popular in Florida and California. Notable California architects associated with the style are Bertram Goodhue, Paul Williams, and Sumner Spaulding. The style was usually applied to apartment buildings, hotels, commercial structures, and large residences. Excellent examples of Mediterranean styled buildings in Southern California include the Harold Lloyd Estate in Beverly Hills; Hearst Castle in San Simeon; the Adamson House in Malibu; and the Superior Court building in Santa Barbara.
Characteristics of the Mediterranean Revival style are:
Stuccoed walls, usually painted white
Often two or more stories
Red tile roofs; roofs are generally low-pitched with overhang eaves
Wood or wrought iron balconies and window grilles
Arched windows and doors
Surrounded by lush and exotic gardens
Formal and symmetrical
Rectangular floor plans
Often accompanied by a profusion of arches, turrets, columns, parapets, and low-relief stonework
The most spectacular example of the Mediterranean Revival style in Fullerton is the Walter Muckenthaler Estate, now the Muckenthaler Cultural Center (1201 W. Malvern Avenue), designed by notable local architect Frank Benchley in 1924. The estate is listed on the National Register of Historic Places. It was not unusual to combine Spanish Colonial Revival and Mediterranean Revival architectural elements, which can be seen in the Santa Fe Railway Depot at the Fullerton train station.
In more recent times, the Mediterranean Revival style has been widely used for custom-built, large single-family residences as well as in the remodel or enlargement of an older house. Many of the large two-story residences with over 4,000 sq. ft. of floor area, that have been built in Fullerton since 1990, are designed in the Mediterranean Revival style; much of this housing is found in the Raymond Hills area, along N. Raymond Avenue and Skyline Drive. Truer representations of the style may be seen in the sizeable enlargement of a 1950s-vintage house at 1101 La Mesa Drive, completed in 2009, and the new residence at 649 W. Valencia Mesa Drive, completed in 2012.
Read more about the Mediterranean Revival style:
Newcomb, Rexford. Mediterranean Domestic Architecture in the United States. New York: Hawthorne Printing, 1992.
Nylander, Justin A. Casas to Castles: Florida's Historic Mediterranean Revival Architecture. Atlen, PA: Schiffer, 2010
Sewall, Jock. Mediterranean Architecture: A Sourcebook of Architectural Elements. Atglen, PA: Schiffer, 2011.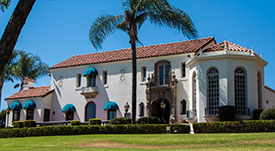 Muckenthaler Cultural Center (1923)
1201 W. Malvern Avenue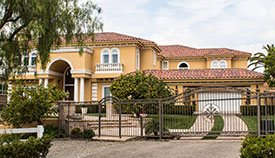 Residence (2002)
2369 Skyline Drive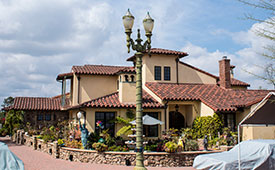 Residence (2009)
1101 La Mesa Drive

Residence (2012)
649 W. Valencia Mesa Drive