Mid-Rise Residential Development
By the late 1980s the cities in north and west Orange County had very little vacant land yet to be developed, but most of these cities had areas in need of redevelopment or revitalization. High land values, however, dictated that any proposed development for these areas needed to have an intensive use of the property; at the same time, there was a great demand for more affordable housing within these communities. As a result of these factors, cities in Southern California began approving mid-rise buildings between 4 to 6 stories in height as apartments or condominiums in the 1990s, often with retail uses on the ground floor as a mixed-use development. Most cities had to change their zoning regulations for specified areas to accommodate the higher density and building heights required for these residential developments.
The architecture of these resulting mid-rise residential projects has been almost always post-modernism in style. As stated in a previous section, post-modern architecture does not necessarily try to replicate historic styles of an earlier age, but instead uses a wide variety of historic forms, simplifying and mixing them, and in many cases, the designer employs a host of cosmetic or superficial design features. The block-like mass and height of these types of buildings require the architect to break up the façade, often using several treatments or features including a marked differentiation in wall relief, use of exterior balconies, and a diversity of materials and/or paint colors.
By 2020, there will be a dozen mid-rise residential developments in Fullerton, all with post-modernism architecture. The first one constructed was the Wilshire Promenade Apartments, a mixed-use development composed of apartments over ground floor retail along the 100 block of West Wilshire Avenue in downtown Fullerton. Built in 1990, it was one of the earliest of this kind to be built in Orange County. Two other mixed-use developments have been built in downtown Fullerton: City Pointe Apartments at 130 E. Chapman Avenue and the Pinnacle at Fullerton Apartments at the northwest corner of Commonwealth and Lemon Street, both completed in 2004. Five other mixed-use developments have been constructed: University House at the northwest corner of Chapman and Commonwealth Avenues, completed in 2014; Ventana, a 6-story apartment project for seniors at 345 E. Commonwealth Avenue, completed in 2017; Malden Station at 250 W. Santa Fe Avenue, completed in 2017; a project providing housing for low-income households at 1220 E. Orangethorpe Avenue, completed in 2018; and 770 South Harbor Apartments, at 770 S. Harbor Boulevard, completed in 2019. Another mixed-use development at 600 W. Commonwealth Avenue will be completed in 2020.
Additionally, three mid-rise apartment developments, void of commercial uses, have been constructed: Fullerton City Lights, providing single-person occupancy apartments for low-income persons at 224 E. Commonwealth Avenue, completed in 2004; Aspect, a market-rate apartment development located at the northwest corner of Lemon St. and Orangefair Avenue, completed in 2018; and Citrea, apartments available for low-income households at 336 E. Santa Fe Avenue, completed in 2018.
This type of residential development, although now prevalent in Fullerton, has not been warmly received by everyone. Many in the community are dismayed by the size and mass of these buildings, which in some cases, appear to be out of character to extant, low-profile surrounding land uses. A prevailing issue for the community is certain going forward: while these higher density housing developments likely will be the greatest way to increase the city's affordable housing stock in the future, the size, design and suitable location of them will generate much discussion and controversy.
Read More about Mixed-use Developments:
Freeman, Robert. "Mid-Rise: Density at a Human Scale." 2014. Planetizen. Online.
Long Beach Redevelopment Agency. Design Guidelines: Standards by Building Type – Mid Rise. 2010. Online.
Podesto, Lisa. "The Evolution of Mid-Rise Design." 2014. Woodworks, Wood Products Council. Online.
Shigley, Paul. "California Goes Vertical." Planning April 2006: 44-47.
"Why Mid-Rise Building Are 'On the Rise '" 2017. RMG Engineers. Online.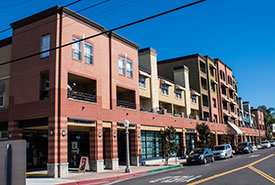 Wilshire Promenade Apartments (1990)
133 W. Wilshire Avenue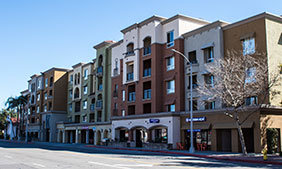 City Pointe Apartments (2004)
130 E. Chapman Avenue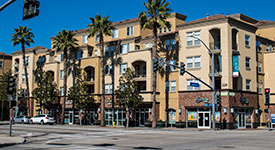 Pinnacle at Fullerton Apartments (2004)
229 E. Commonwealth Avenue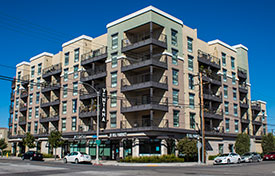 Ventana Senior Apartments (2017)
345 E. Commonwealth Avenue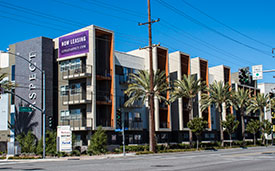 Aspect Apartments (2018)
251 E. Orangefair Avenue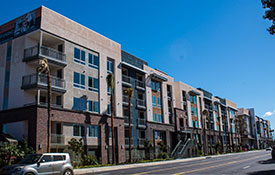 700 South Harbor Apartments (2019)
770 S. Harbor Boulevard