Post WWII Tract Homes
Post-war tract housing is a type of residential development in which many identical or nearly identical dwellings are built adjacent to one another. Tract housing was popularized in the United States when the building firm Levitt and Sons built four planned communities called "Levittowns" (in New York, New Jersey, Pennsylvania, and Puerto Rico); Levittown, New York, however, was the first and most famous. Rather than design and build each house individually, Levitt and Sons built thousands of nearly identical 800-square foot "Cape Cod" look. The houses had a simple rectangular plan with a single gabled roof and a centered front door under a low eave. The repetitive use of only a few plans reduced labor costs, because the home builders were not required to be craftsmen. By ordering materials in bulk and then producing a large number of units, developers could also keep costs down while raising profits.
Common features of post-WWII tract houses include:
Box- or rectangular-shaped single-story dwellings
Usually two to three bedrooms with one bathroom, no more than 1,000 sq. ft. in size
Although different style can be used, exteriors are simple with few decorative elements
Minimal roof overhangs; composition shingles
Smooth stucco walls
Double-hung wood or steel casement windows
Multi-pane picture windows
Front stoops but no large porch areas
Grass front lawns with a rear backyard and simple landscaping
Nearby houses in the tract are similar in style
Two years after the end of World War II, Fullerton's housing boom began, and developers could not construct tract homes fast enough to satisfy the pent-up demand for housing. Post-war tract housing was first constructed west of Euclid Avenue, north of Commonwealth Avenue; the houses sold for $8,700 to $9,200, with no down payment required for veterans. Located primarily in what was then the southern part of the city, the tract houses were modest in size and scale and constructed in neat, clearly defined neighborhoods.
Unlike period-styled homes in the older parts of Fullerton, the tract houses were quickly mass-produced to meet the demand for new homes for those of low or modest means. Featuring two or three bedrooms, one bathroom, and a single-car garage, the residences tended to be plain and simple boxes. Two-car garages would follow in the 1950s. While Minimal Traditional houses constructed in the 1930s and 1940s in Fullerton have some of the same plain architectural elements, post-war tract housing in the city was nearly always devoid of any exterior elements such as porches and fireplaces. Siding may appear on some of the houses, but most often the boxlike dwellings were covered with stucco. Minimal Traditional houses were designed with elements to differentiate them from other nearby residences, but the post-war tract homes were built in an assembly line manner, using the same materials on each dwelling; they were more of a building type than an architectural style.
While these post-war dwellings were unpretentious in style, they did feature modern conveniences: washers, dryers, dishwashers, disposals, built-in ranges and ovens, and touch plate lighting. As homebuyers sought more variety, developers began substituting materials and/or colors, and reversing the floor plan or orienting the plan differently on the lot.
Over the decades, many of Fullerton's post-war tract homes have been altered with new entry doors, additional rockwork and brick veneer, aluminum windows, and garage conversions. Many owners personalized their basic floor plan and appearance by adding new elements to the exterior as well as enlarging the living area of the residence.
This type of housing was built primarily between 1947 to 1952. In Fullerton, a number of builders developed tracts during this period of time, but the local contracting firm most associated with these residences was the Jewett Brothers, who had an office at 116 West Commonwealth Avenue. Good places to find post-WWII tract housing are neighborhoods directly west of Euclid and Basque Avenues north of Commonwealth Avenue and along Princeton Circle East and West, east of Berkeley Avenue and north of Chapman Avenue
Read More about the Development of Tract Homes and Suburbia:
Archer, John. Architecture and Suburbia: From English Villa to American Dream House, 1690-2000. Minneapolis: University of Minnesota Press, 2005.
Hayden, Dolores. Building Suburbia: Green Fields and Urban Growth, 1829-2000. New York: Pantheon Books, 2003.
Kelley, Barbara M. Expanding the American Dream: Building and Rebuilding Levittown.Albany: State University of New York Press, 1993.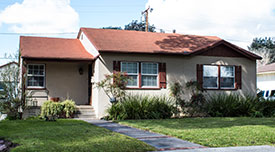 Residence (1947)
211 N. Alberta Place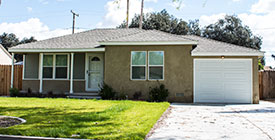 Residence (1950)
208 N. Adlena Drive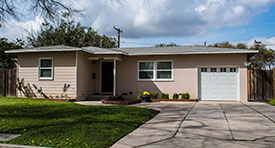 Residence (1950)
409 N. Diana Place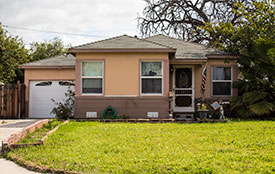 Residence (1950)
208 N. Marie Place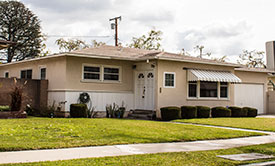 Residence (1951)
532 Princeton Circle West