Mid-Century Modern Architecture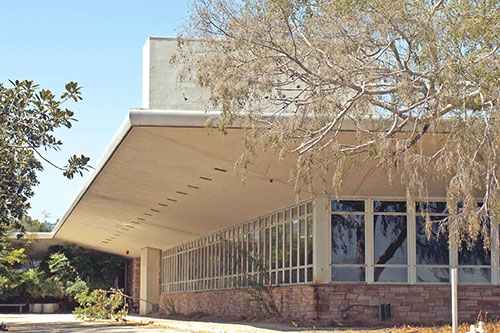 Constructed in 1953/54, the administrative office building of Beckman is an early local example of Mid-Century Modern architecture applied to a non-residential building. Well preserved with few alterations, the building is the best example of this style in Fullerton. The building's distinctive flat roof - with a massive cantilever and angled profile - is the defining element of the structure. While cantilever roofs are routinely seen on Mid-Century Modern architecture, the size (extension) of the building's overhang is exceptional for a commercial building constructed in the 1950s. The flagstone-cladded exterior walls are very evocative of 1950s taste. Its use in a non-residential building is unusual, however, and provides a rough, warm exterior finish to counter and soften the precision and use of cold materials (glass and metal) that are characteristic of the Mid-Century Modern style. The building's strong architectural elements - roof line, repeated window treatments, flagstone veneer - are found on all sides of the building, unifying the exterior look of a large one-story structure that covers over 43,000-square-feet of interior space.
Beckman Instruments, Inc. was the first large high-tech industrial "campus" to be developed in Fullerton, and one of the earliest in postwar Orange County. Its ultra-modern construction was the precursor to other large manufacturing companies locating in Fullerton in the 1950s and 1960s, including the Kimberly-Clark Corporation, Hughes Aircraft Company, and Sylvania Electric Products, Inc. The facility's distinctive style and unique building arrangement, developed by notable architect Lawrence Whitney Davidson, set an early standard for the high-tech complexes that were to follow.
Before relocating to Fullerton, Beckman Instruments occupied 16 scattered locations throughout Pasadena and South Pasadena, and space had become an issue. With the exception of a few postwar buildings, Beckman's factories, laboratories, and offices were pre-World War II structures that did not provide the flexibility needed for a growing scientific company. The innovative design for the Fullerton facility, which provided expansion space spread out over 220,000-square-feet of buildings, reflected the company's inventive approach to research and manufacturing and signaled the company's move into a more modern era. Interior walls could be easily disassembled and moved to keep pace with expansion; glare-resistant windows provided working comfort for employees; an insulated steel deck ran throughout the factory to facilitate controlled temperatures; and a landscaped open air central walkway allowed visitors to move from the main foyer and administrative offices to individual product departments without passing through new areas. As historian Arnold Thackray noted: "The design was highly modern, centered on the concept of flexibility for further expansion: Additional space could be easily constructed and integrated, and any interior spaces could be reconfigured quickly and efficiently. Such a flexible design befitted a firm dedicated to new instrumentation in a growing array of technologies" (p. 234). In 1955, the national magazine Factory Management & Maintenance honored Beckman with its Significant Plant Award. From 500 plant-of-the year candidates, the magazine chose the new Beckman facility as one of the nation's top ten plants built in 1954. The magazine noted: "Faced with extraordinary requirements for flexibility and expandability, Beckman met both demands to a remarkable degree with a plant that is also a pacesetter in appearance and employee services."
In the 1950s and 1960s, the administrative office building became a well-known architectural symbol of the company. Photographs and drawings of the building were used in advertisements, annual reports, and other promotional materials, including Arnold O. Beckman's published speech ("Beckman Instruments, Inc. : There Is No Satisfactory Substitute for Excellence"), delivered before the National Meeting of the Newcomen Society in Los Angeles on November 10, 1975.

Architect Lawrence Whitney Davidson, AIA
During the postwar era, hundreds of new industries were established in Fullerton. Most of the plants and factories constructed for these industries were nondescript box-like structures. A few companies used notable architects—Kimberly-Clark employed Skidmore, Owings and Merrill and the American Electronics Plant hired Eugene Choy—but few of the manufacturing buildings of this era reflect remarkable architectural design. Lawrence Whitney Davidson was an excellent choice to design the Beckman Instruments new facility. He had a strong background in both architecture and engineering and had designed other manufacturing plants before the Fullerton project. Over his 30 year career, Davidson moved fluidly from one project to another, designing golf clubhouses, industrial plants, movie studios, school classrooms, and municipal buildings. He shifted easily between private, military, and public works projects. His early work was done in the Mid-Century Modern style, but over time he designed starker, more postmodern structures.
Davidson received his Bachelor of Science degree in architecture from the Illinois Institute of Technology in 1935, receiving a one-year scholarship for being high school valedictorian. He served as manager of engineering at the American Can Company from 1948 to 1951, where he patented a new device for stacking magnetizable items (Patent # 2635002A). From 1951 to 1953, Davidson worked as chief architect at the Donald R. Warren Company (930 West Sunset Blvd., Los Angeles), one of the Southwest's leading heavy engineering firms. An influential civil and structural engineer, Donald R. Warren (1897-1973) had joined architects Paul R. Williams and Adrian Wilson to form Allied Engineering, Inc., which worked on the Roosevelt Naval Base on Terminal Island during World War II, and Warren later became known for helping to build large infrastructure projects, including the San Francisco-Oakland Bay Bridge and the Los Angeles International Airport. By the time of the Beckman Instruments project, Warren's company had completed over 200 industrial projects for producers of aircraft, petroleum, cement, paints, instruments, rubber, and metals. After Davidson left the Donald R. Warren Company, Warren would work with other architects, such as Jones and Emmons, on other Fullerton projects, including the Arcadia Metal Products Plant (801 North Acacia) and the American Meter Company plant (300 North Gilbert).
In 1952, Davidson designed new container factories in Wilmington and Stockton for the American Can Company. An article in the September issue of Architect and Engineer lauded the Wilmington plant (110 East Sepulveda, razed), noting that it represented "one of the most modern manufacturing plants in the world. " The Wilmington plants' ultra-modern architectural features, especially the large "fin" rising over the center of the building used for an identification sign, were later reflected in the Beckman administration building, which refined the elements of the can plant.
In 1954, Davidson established his own architectural firm, L. W. Davidson and Associates, and in February 1956, moved into new headquarters with his affiliate company, North American Industrial Engineers, at 3142 Wilshire Boulevard in Los Angeles. In the 1950s and 1960s, Davidson designed a significant number of impressive and innovative commercial and industrial structures: the S. H. Kress Company Store (1954) in Los Angeles, one of three projects for businessman/art collector Samuel H. Kress; a warehouse and sales office for Coopers, Inc. (1955), manufacturers of men's apparel, in Los Angeles; the Western Gear Corporation (later Westech Gear) Engineering Building (1956) in Lynwood; the Leeden Manufacturing Company plant (1956) in El Monte; a $500,000 modernization and new exterior for the W. I. Hollingworth Building (1958) on West Sixth Street in downtown Los Angeles; the Turco Products headquarters (1959) in Los Angeles; the Georgia-Pacific Corporation distribution warehouse (1961) in Pico Rivera; the National Cash Register Company plant (1967) in Hawthorne; and Statham Instruments in Oxnard (1967). In 1959, Julius Shulman, the great modernist photographer, took shots of the Turco Products, Inc. building, which are on file at the Getty Center. During this same period, Davidson did military work, designing buildings at George Air Force Base, Edwards Air Force Base, and the Marine Corps Electronic School at 29 Palms, while also patenting a hangar for swept-wing aircraft (Patent # 3543461A). He designed film studios, such as the Universal Pictures Studios in Los Angeles and Universal Pictures in Memphis, Tennessee, both in 1955, as well as a pipeline project in the the Arctic Circle.
In the 1960s, Davidson began to move into the public building sector, designing the Community Clubhouse at Erwin Park (now Valley Glen Community Park) in Van Nuys, and in the 1970s, began school projects, including a new children's center for Dayton Heights Elementary School, and a $1.32 million project for Bret Harte Junior High School, which called for a new main building, 20 classrooms, administrative unit, and library-media center. By the 1970s, L. W. Davidson and Associates had become one of the largest architectural firms in the San Fernando Valley, which was rapidly developing. In 1979, he was selected to design the $43.9-million dollar Plaza Technical Center (555 Ramirez Street), at the time the largest single construction project ever built by the Los Angeles Department of Public Works. Using a quadrant concept to link four separate structures, the Plaza Technical Center (now the C. Erwin Piper Technical Center) project was the largest single contract ever issued by the local governing body in California. Designed to serve multiple city services, the center also has the world's largest rooftop airport. In addition to Beckman Instruments, Davidson's other major Orange County commission appears to be the Lido Park Medical Center in Newport Beach (1965).