Norton Simon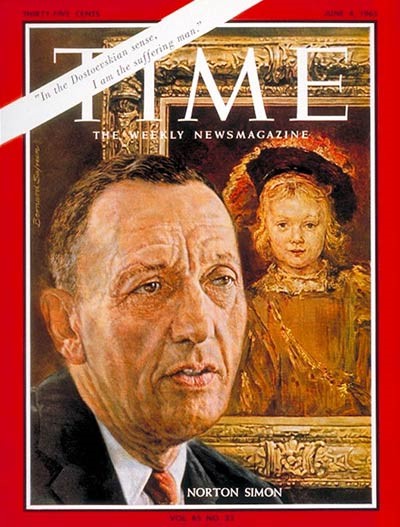 Norton Simon on cover of Time Magazine
June 4, 1965
Simon was born on February 5, 1907, in Portland, Oregon, the first child of Meyer Simon (1885-1953) and Lillian Glickson Simon (1884-1921), descendants of European Jewish immigrants. Meyer Simon worked at a variety of jobs, most frequently buying up lots of clothing and inventories of bankrupt firms. When a store went out of business, he purchased the remaining stock at distressed prices and sold it for a higher sum at his own establishment, Simon Sells for Less. After the death of Lillian Simon, the family moved to San Francisco where Norton graduated from Lowell High School in 1923, at the age of sixteen, two years younger than most of his classmates. His primary concern was business, and Norton had no interest in college. At his father's insistence, he enrolled at the University of California, Berkeley, and dropped out after only six weeks, ending his formal education.
After a shaky start in San Francisco, Meyer Simon established himself as an importer and exporter of surplus and scrap goods, conducting most of his business with Asia. Norton Simon joined his father, but eager to be independent, took off for Los Angeles in 1923, at the age of eighteen. His ambition was to make a lot of money, and Simon tried a number of business ventures. In 1929, Meyer Simon moved his second wife and two daughters to Los Angeles to join his son. In 1931, Meyer convinced his son to join him in investing in the ailing Whitefield Citrus Products Company, a citrus bottling plant in the then-sleepy town of Fullerton, California. Although the original plan, in typical Simon family fashion, was to quickly sell off the plant equipment and move on, Meyer encouraged Norton to run the company for a year. Meyer Simon, who remained in Los Angeles, provided expertise as general manager and then as vice-president. The day-to-day running of the cannery was done exclusively by Norton Simon, who resisted all attempts by his father to join the board of directors. Working tirelessly, Simon quickly developed Val Vita into one of the largest canneries on the West Coast. He continued to buy up failing food-processing companies, and in 1941, began buying stock in the Hunt Brothers Packing Company in Hayward, California, eventually gaining control of the firm. He changed the name of Val Vita to Hunt Foods, Inc. These initial investments soon ruled the canned tomato empire, and Simon was given the moniker of the "tomato czar" of California. The Hunt red label brand become a common item in American households. With a rare ability to transform laggard companies into high profitable enterprises, Simon went on to amass a huge fortune. While building Hunt Foods into a giant among food processing companies, Simon kept 9.5 percent of the company's assets free for investment, targeting companies that were undervalued, failing, or poorly managed. He quietly and cautiously bought a relatively small number of shares, enough to give his investigators access to the company's offices and plants. When investigators would report favorably back, he would buy a larger block of stock—usually about ten percent—and demand a place on the board of directors of the company. The incumbent management, shocked at such a maneuver, and jealous of its power, would react with numbed or furious hostility, usually to no avail. Almost invariably, Simon would succeed in fighting his way into the director's chair. Once there, he would dominate proceedings with his criticism and suggestions, and within months, he would usually be in effective control of the company.
The 1960s was a time of great change for Norton Simon. Not a popular figure in the business world, Simon had earned grudging respect from the food industry for his business acumen by the 1960s, and the modernist Hunt Center provided him with the corporate architecture that reflected his improved and evolved status as a multinational magnate. He continued to expand his empire and began development of one of the nation's greatest corporate art collections, while also experiencing deep personal loss that led to his resignation in 1969. When the Hunt-Wesson, Inc. Headquarters building was completed, Simon moved into his office on the fourth floor. He continued to use his corporate raider tactics to acquire additional companies, including the Wheeling Steel Corporation in 1963 and the Canada Dry Corporation in 1964, with increased profits providing him with almost unlimited economic resources to purchase art. No longer situated in the cramped and noisy 1939 headquarters office on Commonwealth Avenue, Simon relished his new elegant office accommodations, showing them off to visitors.
Furtive and private for the first thirty years of his career, he engaged with the Fullerton community for the first time, eager to be portrayed as a culturally enlightened industrialist, and his foundation collection seen as an educational resource. For the first time, Hunt property was used for fundraising events, which Norton attended at night and on weekends. Using one of the art guides provided by the Hunt Library to explore the grounds, residents and visitors were often surprised to encounter Simon positioning statuary along the formal walkways. He developed a taste for publicity, allowing himself to be photographed at work for the first time, with his picture appearing in issues of the Fullerton News Tribune and the Hunt Highlighter in the 1960s. He also served on a number of boards and commissions for the first time, most notably as a trustee of the Los Angeles County Museum of Art from 1957 to 1971, playing an instrumental role in the establishment of a new museum on Wilshire Boulevard in 1961, and as a University of California Regent from 1960 to 1976. During this period, Simon's art collecting became intertwined with his business. He began to shift gears, increasingly moving between business and art, becoming one of the most active collectors in the 1960s. He amassed what is considered to be the greatest private art collection assembled after World War II, which he showcased at his home, and also began to accumulate one of the premier corporate collections.
In April 1964, Simon and the Hunt Foundation made the biggest acquisition for the corporate collection, the entire Duveen Brothers gallery on Fifth Avenue in New York City. One of the most prominent art dealers of the first half of the twentieth century, Duveen Brothers was known for its exemplary taste and eye for fine art. The purchase established Simon as a major art collector and served as the core of Hunt Foundation collection. To maintain the tax-exempt status of the foundation, Simon was required to make the foundation's art collection available to the public and use it for educational purposes. New acquisitions were first showcased in the headquarters building, moved to the Hunt Library, and then shipped to museums and university art galleries around the United States. Acquisitions were often stored in the basement of the headquarters building. While the Hunt Library was a showcase for Simon, it was a symbol of a more ambitious goal of building an actual museum, which he believed would be built adjacent to the library, and he began to select art that he intended to display in the new facility. When his plans for a Fullerton art museum fell through, Simon purchased the failing Pasadena Museum of Modern Art, spent $3 million refurbishing the building, and opened the Norton Simon Museum in 1975 to showcase his collection. While there may have been initial misgiving about Simon's new museum, it was quickly adopted by Southern Californians as a cultural jewel, adding luster to the area's cultural life. It remains one of the premier art museums in the nation.
Simon contracted Guillain-Barre syndrome in 1983, and his health gradually declined. In 1993, he passed away at the age of 86 from respiratory failure. He is buried in Los Angeles. Papers on Norton Simon's art collection are at the Norton Simon Museum. Although there are numerous periodical articles on Simon, Odd Man In: Norton Simon and the Pursuit of Culture (1998), available in the Fullerton Public Library, is the only full-length biography.

Architect William Pereira

William Pereira on cover of Time Magazine
September 6, 1963
The Hunt Center was the result of a highly successful collaboration between a prominent architect and a corporation determined to express its unique identity through a landmark headquarters building and campus. Simon was not knowledgeable about architecture. As a Los Angeles County Museum of Art trustee, he had helped to select William L. Pereira as that project's architect, and he made the decision to hire Pereira to create a master plan that would showcase his personal and corporate art collections as well as the rapidly expanding Hunt-Wesson Corporation. Hunt Center was Pereira's first headquarters commission after his split from his business partner Charles Luckman. The two architects had completed a number of headquarters buildings for other firms, including Gibraltar Savings and Loan and the Hilton Hotels Corporation, and Pereira was eager to establish himself as a premier architect of corporate modernism, a distinctly American style of architecture after World War II. In his later corporate headquarters commissions—notably the Occidental Life Insurance Company Headquarters and the Transamerica Corporation Headquarters in Los Angeles—high density locations forced Pereira to design high-rise buildings. With the Hunt Center, he had the land necessary to showcase his sleek International Style buildings in a lush, parklike setting. Simon was seeking a one-of-a-kind headquarters for a one-of-a-kind company, and Pereira, who appreciated the importance of a dramatic statement, provided him with the striking and impressive complex he wanted. The Hunt Center was one of Pereira's best-executed and successful projects in his career, and it remains a significant landmark in Fullerton and Orange County. Pereira is credited with creating modern architecture in Los Angeles, and he left an indelible print on Orange County. He spent thirty of his fifty professional years working in Orange County, having a hand in the design and planning of more than sixty buildings in the county and created plans for properties encompassing an estimated 200 square miles. Projects included three colleges, the countywide airport system, a sprawling industrial site for Lockheed, the 93,000-acre Irvine Ranch, and 4,000 acres of Union Oil Company land within Brea and La Habra. Those projects cover almost one-third of the habitable land in Orange County. Other major Orange County works include Fashion Island's Atrium Court in Newport Beach, Irvine Towers in Newport Center, Cypress Civic Center, and Buena Park Public Library. The Hunt Center and Library remain two of his most recognizable and iconic masterpieces in Orange County and are the only two buildings in Fullerton designed by the architect.
In a long career that spanned several iterations and reinventions, Pereira developed a resume of incredibly diverse projects. As tastes and trends changed, he designed buildings in a number of styles: Beaux Arts, Art Deco, International Style, Mid-Century Modern, Futurist Architecture, and Brutalism. He began designing buildings in the International Style in the late 1930s, most notably in his commission for the Lake County Tuberculosis Sanatorium (1938-39) in Waukegan, Illinois, and continued to use the style until the early 1960s. By the time he designed the Hunt Center buildings, Pereira had completely mastered the sleek modernist elements of the International Style, and the two companion buildings are two of his finest examples of the style. The Hunt Center project was one of his last uses of the International Style. By 1963, he had moved toward Brutalism, reflected in his campus building designs for the University of California, Irvine. Other National Register-listed buildings designed by Pereira include Lake County Tuberculosis Sanatorium, and three buildings that are part of the University of Southern California Historic District: Ahmanson Center for Biological Research, Olin Hall of Engineering, and Booth Ferris Memorial Hall. A number of cities—Beverly Hills, Los Angeles, Palm Springs—have also designated Pereira buildings as local landmarks. James Steele's comprehensive survey of the architect's works, William Pereira, is on file in the Fullerton Public Library.
Photographs, maps, floor plans, and other information on both the former Hunter Center and the Hunt Library will be found in the Local History Room of the Fullerton Public Library.