Hugh Edgar Johnson House
444 W. Brookdale Place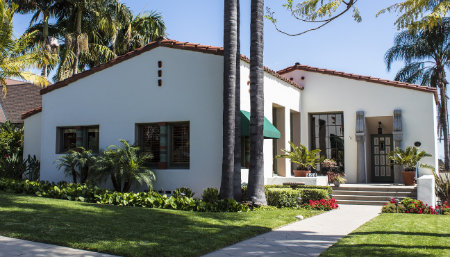 The Hugh Edgar Johnson House was listed on the National Register of Historic Places on February 4, 2021. It is also a designated Fullerton Local Landmark. The dwelling is associated with prominent and influential newspaper editor/owner Hugh Edgar Johnson, who along with his wife Mildred, had the home constructed in 1928 by notable local building contractor Evan J. Herbert. On May 31, 1927, the Johnsons purchased three lots facing Richman Avenue in Brookdale Heights from local developer Harry Gantz. On February 29, 1928, the couple signed a contract to have the home constructed for $15,000, an enormous sum for a home at the time, on the newly purchased land. The Johnsons, who had been living at the same location on West Commonwealth Avenue since moving to Fullerton in 1893, appeared to be planning their final dream home with the expectation that Hugh Edgar Johnson would retire in 1929. Newspaper society articles indicate that the couple had settled into their newly constructed home by September 1928. Mildred Johnson died of a stroke in the home on October 22, 1931, and her husband continued to live in the dwelling until his death in 1935.
The Hugh Edgar Johnson House is located on the southeast corner of Brookdale Place and Richman Avenue, about a mile northwest of downtown Fullerton, California. It is situated at one end of Brookdale Heights – the 300 and 400 blocks of West Brookdale Place – protected with a Preservation Zone in October 1998. Originally promoted as an area of superior housing and attractive views, Brookdale Heights was a focal point of residential construction in Fullerton from 1926 to 1930. By 1931, over seventy percent of the lots in the two-block tract were purchased and homes constructed, but the area was never fully developed until the 1950s. Most of the homes are period revival dwellings (e. g., Tudor Revival, Spanish Colonial Revival, Storybook, etc.). Situated on a corner lot with an elevated pad – and designed with eye-catching and distinctive massing of forms and features – the Hugh Edgar Johnson House stands out within a neighborhood of many outstanding historic residences.
The striking dwelling is a one-story plus half basement, wood-frame, Spanish Colonial Revival dwelling that has Mayan Revival influences. In the 1920s and 1930s, the Spanish Colonial Revival style was popular in Fullerton, especially for public buildings, but the use of Mayan Revival architectural elements was rare. The dwelling is the only Spanish Colonial Revival building in the city that has Mayan and Aztec decorative features on the exterior and interior. The home's dramatic temple-like entryway, decorative windows columns, ziggurat porch posts, and interior fireplace surround are unique to Fullerton.
The living room features a rare Aztec-figured fireplace made by California Clay Products. While California Clay Products (Calco) produced square- and rectangular-shaped tile, it was noted for irregularly-shaped tiles that fitted together like a jigsaw puzzle, apparent in the fireplace's design. Other companies produced Mayan tiles, such as Claycraft Potteries and the Batchelder-Wilson Company, but Rufus Keeler, the innovative ceramic designer for California Clay Products, carefully researched his designs, noting in his catalog that the designs were from "authentic sources" found in the ruins of Palenque and Mitla, Mexico.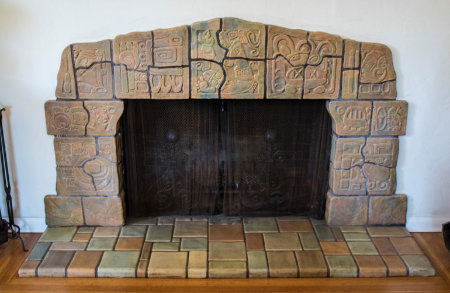 Calco Fireplace
Building Designer/Contractor Evan Jones Herbert (1884-1965)
The job of adapting elements from pre-Columbian architecture into a modern structure fell to prolific building designer and contractor Evan Jones Herbert, a Yorba Linda pioneer rancher and notable building contractor for more than 55 years. Unlike other local builders, such as Oliver S. Compton and Ernest S. Gregory, who only built in one or two architectural styles, Herbert had developed a reputation of providing his clients with the homes they wanted, no matter the style, size, or lot location. Prior to designing and building the Johnson House, he had worked in a variety of revival styles from foreign countries. The most formally educated of Fullerton's builders, Herbert had at his disposal a number of books on Mayan architecture, most notably architect George Oakley Totten's heavily illustrated Maya Architecture (1926), a compendium of Mesoamerican architectural elements. He abstained, however, from the very stylized and ornate detailing associated with Mayan Revival architecture in favor of a more restrained look that incorporated only a few pre-Columbian elements. The Johnson House is the only building where Herbert combined Spanish Colonial Revival architecture with exotic Mesoamerican detailing. Herbert has two other Fullerton buildings on the National Register of Historic Places: the Muckenthaler Estate and the Santa Fe Depot. The Walter Jack Cadman House at 865 North Richman Avenue is a designated Fullerton Local Landmark
More extensive information, along with photographs, on Hugh Edgar Johnson and his home on West Brookdale Place will be found in the Local History Room of the Fullerton Public Library. The Local History Room also has a list of other identified Herbert properties in Fullerton and Yorba Linda.
First Owners: Mildred and Hugh Edgar Johnson
The home was constructed by newspaper owner/editor Hugh Edgar Johnson (1868-1935) and his wife, Mildred (1869-1931). It is not known why the couple selected the unusual architectural style for their new home.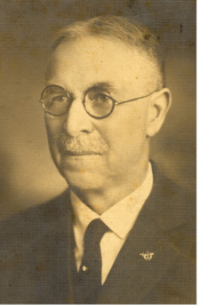 Hugh Edgar Johnson 1931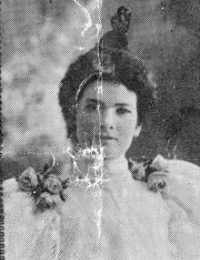 Mildred Johnson 1896
A colorful character in a colorful period of journalism, Hugh Edgar Johnson was the personification of an early American country newspaper editor and proprietor. After starting three Orange County newspapers, Johnson was enticed to move his Tribune to Fullerton in 1893, by the promise of 300 paid-in-advance subscribers. Johnson established the Fullerton Tribune when the town was little more than a hard-packed plot of bare earth, and under his hand for nearly 40 years the newspaper flourished in parallel with the growth and prosperity of the city. In the early days of the newspaper, Johnson was the Tribune – gathering, writing, editing, and placing the news in various positions in the pages of the newspaper, and writing all the editorial opinions. In an era known for fiery journalism, his hard-hitting reporting, vitriolic editorials, and caustic wit were legendary throughout Southern California. One of the few Democratic editors in Orange County, Johnson and his newspaper would provide the still-fledgling townsite with a cohesive identity while playing a major role in shaping the attitudes of his readers and the town. The Tribune remains the only day-to-day chronicle of early Fullerton, and Johnson remains the most significant and longest-serving editor and newspaper owner in the city's history.
Born on February 28, 1868, in Ashville, North Carolina, Hugh Edgar Johnson was the oldest of nine children born to Merriman Haskew Johnson (1836-1906) and Laura Ann Sitton (1846-1925). A farmer and carpenter, Merriman Johnson served as a Second Lieutenant of the North Carolina 16th Infantry Regiment during the Civil War, and he was one of about 800 Union and Confederate veterans who migrated to Orange County after the war. The family settled in Santa Ana in 1886, when Hugh Edgar Johnson was eighteen years old. On August 21, 1889, Johnson, then 21, married Mildred (Millie) R. Ward, age 20, one of ten children born to John and Roxana Ward of Tustin. A 39-year resident of Fullerton, Mildred Johnson worked alongside her husband for decades as he established early Orange County newspapers, often setting type and reporting on women's issues. The couple had no children.
After three failed newspaper attempts in Orange County, Johnson was approached by town founder Edward Russell Amerige (1857-1915) and rancher/businessman Alexander McDermont (1844-1921) about starting a newspaper in Fullerton. At first Johnson "could not see much in it" but agreed to visit Fullerton. After making the trip, Johnson accepted the proposition, but requested a guarantee of 300 paid-in-advance subscribers (at $1.50 per annum) to begin with, and "twenty enterprising citizens" stepped forward with the requested amount in cash. Johnson. moved with his wife to Fullerton on July 12, 1893, renting rooms in the McDermont Block on South Spadra Road (now Harbor Boulevard) before starting construction of a "little cottage" at 218 West Commonwealth Avenue (razed, 1940s) in November. The couple would live in the Victorian-styled West Commonwealth Avenue home until 1928.
When Johnson started the Fullerton Tribune in April 1893, the town had no paved roads, no gas or electricity, no bank, and one streetlight – an oil light, at the northeast corner of Harbor Boulevard and Commonwealth Avenue – where the city's business building, the Chadbourne, was located. He rented a corner room in the Chadbourne Building, sharing the building with a dentist, a physician, a grocery store, and the town post office. Operating out of the Chadbourne Building, the ambitious 25-year-old would don his trademark bowler hat and travel by horse and buggy, bicycle, and horseback over the roads of North Orange County to gather news and advertising. He then helped his compositors set stories, one letter at a time, running a hand-operated press.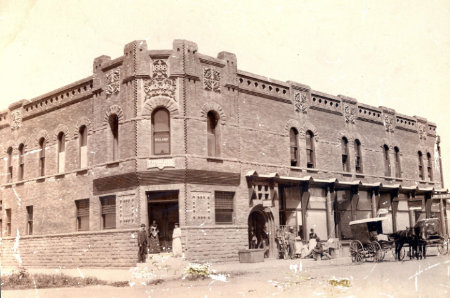 Chadbourne Building

The Fullerton Tribune would have two rival newspapers – the short-lived Fullerton Journal (April 7-May 1898) and the Fullerton News (1902-1926) – but remained the town's leading newspaper. In the early 1900s, Johnson enlarged his newspaper, expanded its coverage, and briefly renamed it the Orange County Tribune. By 1908, the Tribune had double the circulation of any of the top ten weekly papers in Orange County. In 1911, Johnson constructed his last Tribune building at 107 South Harbor Boulevard. The small brick building provided Johnson with the electricity needed for his new all-electric printing equipment. In 1914, he added a daily edition at $4.00 per year, becoming the first weekly in Southern California to convert to a daily. In February 1926, he bought out his primary rival, the Fullerton News, and combined the papers to form the Fullerton Daily News Tribune. The Tribune is remarkable for having only three owners in its first 80 years. After 38 years in the editorial chair, Johnson sold the Tribune in 1929. It survived for another 55 years under various owners until the daily was finally shut down at the end of 1984 – the last to go of Orange County's 19th century newspapers.