Early 20th Century Commercial
The first commercial building constructed in the new Fullerton townsite was the small wooden Amerige Brothers' Realty Office (1887), now located in Amerige Park. It is the only commercial building to survive from this founding era.
From 1900 to 1917, modest brick commercial buildings gradually replaced the initial wood-framed structures in the center of town. Most of the brick buildings had recessed entrances and plain exteriors, although there often was decorative work on cornices and parapets. A good representative example of "brick commercial" or "brick vernacular" style architecture is the Dean Block (1899-1901) at 111-113 N. Harbor Boulevard, the city's oldest commercial building block. Another notable brick commercial building of this period is the Crystal Ice House (1910), now used as a church, at 112 E. Walnut Avenue.
From 1918, to 1925, Fullerton experienced new commercial construction with major buildings that largely defined the Central Business District. As the main street, Spadra Road (now Harbor Boulevard ) was the focus of much of this construction, but less important industrial and service structures filled the side streets, in particular Santa Fe Avenue. The major commercial buildings constructed during this period include the Spanish Colonial Revival California Hotel (1922), now Villa del Sol, at 305 North Harbor Boulevard; the Beaux Arts inspired Farmers' and Merchants' Bank (1904, redesigned in 1922), now the Landmark Plaza Building, at 122 N. Harbor Boulevard; the Sullivanesque Chapman Building (1923) at 110 E. Wilshire Avenue; and the Italian Renaissance Alician Court Theatre (1925), now the Fox Fullerton Theatre, at 508 N. Harbor Boulevard. As Fullerton prospered in the 1920s, commercial construction began to move further down Harbor Boulevard and outside the city's central core.
Also during this period less important industrial and service structures filled in the town's side streets. With a less prominent location, these building's façades were kept simple and unpretentious. Among those that still stand today with adaptive reuse include the Ellingson Building (1920) at 119 W. Santa Fe Avenue; the building at 125 E. Santa Fe Avenue (1921), now the home of Heroes Restaurant; the Fullerton Dye Works Building (1922) at 227 W. Santa Fe Avenue; the De Luxe Hotel (1923) at 410-412 S. Harbor Boulevard; the Amerige Block (1925) at 109-123 E. Commonwealth Avenue; the Williams Building (1927) at 112 E. Commonwealth Avenue; the Sanitary Laundry Building (1928) at 221-225 W. Santa Fe Avenue; and the two-story brick building at 213-215 W. Commonwealth Avenue (1926).
Read More about Early 20 th Century Commercial Architecture:
Longstreth, Richard W. The Buildings of Main Street: A Guide to American Commercial Architecture. Walnut Creek, CA: AltaMira Press, 2000.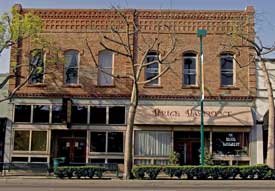 Dean Block (1899-1901)
111-113 N. Harbor Boulevard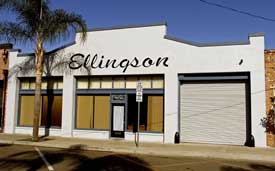 Ellingson Building (1920)
119 W. Santa Fe Avenue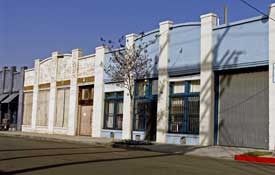 Sanitary Laundry Building (1928)
221-225 W. Santa Fe Avenue