Cottage/Storybook
Sometimes considered a sub-category under Tudor Revival, the cottage style borrows heavily from English country cottages, the Arts and Crafts movement, and the medieval period. There are a number of cottage styles, such as Pointed Gothic cottages that have steeply pitched rooflines, and Cotswald cottages that have prominent brick or stone chimneys and quaint charm. Cottages ranged from small, modest bungalows to elaborate witchlike dwellings. The style goes by several names: English Country Cottage, Hansel and Gretel, Fairy Tale, Disneyesque, Hobbit Houses, and Storybook Houses. The style was very popular in the United States during the 1920s and 1930s. The style surged in popularity after a subdivision of cottage homes (Hollywoodland) was built in 1923. The theatrically designed homes served as residences in Los Angeles for a number of movie stars (Bela Lugosi, Humphrey Bogart, Gloria Swanson) and received nationwide media attention.
Designed to create a cozy, homelike effect, picturesque cottage houses were readily available in ready-cut house plan catalogs. While the exteriors looked like rustic cottages, the interiors were always 20 th century creations. Features of this whimsical and charming style include:
Rolling, uneven rooflines
Simple materials carefully crafted (often to look deliberately old)
Shingle, tiles, or composition roofs laid in irregular patterns and varying colors to suggest thatching
Stucco, brick, or stone siding or a combination of the three
Steep gables
Prominent chimneys
Casement windows with small panes
Low doors
Little or no porches
Turrets
Small, irregularly-shaped rooms, often dark and cozy
The Storybook and Cottage styles were very popular in Fullerton in the 1920s. In the late-1920s, local builder E. S. Gregory constructed a small tract of lovely cottages on the north side of the 1100 block of E. Whiting Avenue. He would go on to popularize what he called his "English cottage" residences, located throughout the historic areas of the city. In 1927, the Fullerton Chamber of Commerce selected the Cottage style for a model home it built at 701 N. Richman Avenue to promote home buying in the city. Other Cottage-style dwellings include the William Kroeger House (1927) at 901 E. Chapman Avenue and the Abbott House (1929) at 705 N. Richman Avenue, a Pacific Ready-Cut mail order residence. The Starbuck House (1927) at 834 N. Woods Avenue typifies an Irish country cottage. Built for a British emigrant, the Naylor House at 200 N. Cornell Avenue, constructed in 1923, is a prime example of an English cottage. Other good examples of the style are found at 656 N. Golden Avenue (1927), 1206 N. Lemon Street (1929), and 333 W. Brookdale Place (1931).
By the mid-1930s with the Depression in full force, the popular use of the Cottage style had vanished.
Read More about the Cottage Style:
Gellner, Arrol. Storybook Style: American's Whimsical Homes of the Twenties. New York: Viking Studio, 2001.
Hobart, Christy. "Life Within a Fairy Tale: L.A.'s Fanciful Storybook Style Makes a Last Stand Against Convention-and the Wrecking Ball." Los Angeles Times, January 13, 2005: F1, F8.
Powell, Christopher. Discovering Cottage Architecture. Buckinghamshire, UK: Shire, 2003.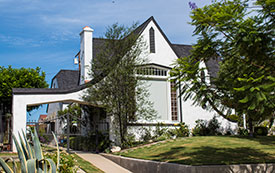 Residence (1927)
701 N. Richman Avenue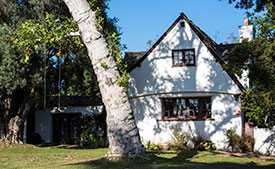 Starbuck House (1927)
834 N. Woods Avenue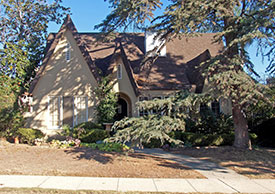 Residence (1927)
656 N. Golden Avenue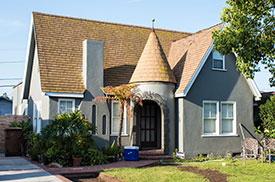 Residence (1928)
140 W. Rosslynn Avenue