Architectural Styles in Fullerton
Introduction
The purpose of this document is two-fold: 1) to reveal the rich architectural heritage that exists in the city of Fullerton, and 2) to describe and define the types of architecture that has evolved over the last 100-plus years for both residential and commercial buildings. This document only uses buildings found in Fullerton to portray examples of the many architectural styles – over 30 in number – that are identified by having recognizable design principles and characteristics. As such, not all recognized architectural styles are represented in this document, and those that are shown are not necessarily the best of the type – they are just the best local examples of the style. The intent here is to give the reader the ability to recognize and appreciate the various types of architecture that now manifests itself in the city of Fullerton.
The range of architectural styles in Fullerton is quite extensive and reflects the city's development that spans well over 130 years. When Fullerton was part of the 35,000-acre Rancho San Juan Cajon de Santa Ana in the 1830s, landowners lived on Spanish ranchos with adobe houses. As Anglo settlers moved into the area in the 1860s, they built rather plain, undistinguished homes. Only a few structures from this period survive, but the ones that do reflect the square Colonial Revival architecture which was particularly favored for grove houses, such as the Kerr House at 771 W. Orangethorpe Avenue.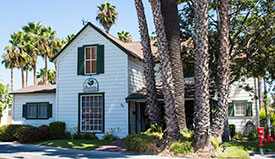 Kerr House (1887) Colonial Revival
771 W. Orangethorpe Avenue
After the founding of the Fullerton townsite in 1887, at what is now the corner of Harbor Boulevard (Spadra Road) and Commonwealth Avenue, and the coming of the Santa Fe Railroad, residents were able to ship factory-made, pre-cut architectural parts across the country to Fullerton where builders would use them to create picturesque and elaborate late-Victorian era houses. In this era of ranches and orchards, housing was widely scattered throughout the townsite, and neighborhoods in the conventional sense were nonexistent. The two most popular Victorian styles were the Eastlake and Queen Anne, although houses of the Colonial Revival style were also built. Fullerton settlers were emigrants from elsewhere, primarily the Northeast and Midwest, and they brought with them a preference for architectural styles – Queen Anne, Colonial Revival, Gothic Revival, Beaux Arts, Sullivanesque, Classical Revival – that sustained a feeling of familiarity and comfort.
Around 1910, Fullerton residents, like the rest of the nation, turned away from the fussiness of Victorian architecture toward well-crafted bungalows – California bungalows and Craftsman bungalows – that offered a simpler lifestyle. From 1910 to 1925, hundreds of bungalows and several bungalow courts were constructed throughout the town. At the same time, residents sensed the incongruity of constructing Victorian and Colonial Revival buildings in a Mediterranean and semi-desert landscape and turned to what was viewed as a more authentic design: the Mission Revival style that drew inspiration from early Spanish missions in California. Both private and public buildings were built in the Mission Revival style, and the buildings in this style that remain reflect the varied ways that this architectural style was used throughout the city.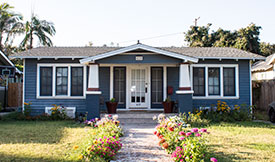 Typical California Bungalow (1922)
410 W. Jacaranda Place
In 1919, the Fullerton Board of Trade (later the Chamber of Commerce) and the City Council made history by passing a resolution establishing the Spanish Colonial Revival style as the architectural style for public buildings. Fullerton became one of the first cities in the nation to establish a uniform style of architecture. Thereafter, several public buildings – the high school, college, library, post office, city hall, etc. – were designed in this European revival style. Until the beginning of World War II, the Spanish Colonial Revival style remained very popular in Fullerton.
By 1919, Fullerton had a serious housing shortage. Editorials and articles in the local newspaper called for increased development in areas around the downtown core. The booming citrus and petroleum industries brought increasing wealth and business to the city, which led to a housing boom and a period of rapid growth. The city's first real developers, such as Harry Crooke and Richard and Ernest S. Gregory, became active during this period. Apartments, bungalow courts, and modest homes were built, but the wealthy also began to construct larger, more extravagant homes in period or romantic revival styles, such as Tudor Revival, Neoclassical Revival, and cottage styles. It is from this period that the oldest neighborhoods in Fullerton developed. Fullerton residents intensely disliked large tenement buildings found on the East coast, and most apartments contained only a few units, with many of the apartment complexes styled to look similar to two-story dwellings.
During the Great Depression and war years, both commercial and residential building greatly declined, although the city fared better than most in Orange County. During the Depression years, Fullerton requested and received more state and federal relief funds than any other city in the county. The result was a number of public building projects throughout the city, including the construction of the former Fullerton City Hall, now the Police Station (237 W. Commonwealth Avenue); Maple Street School (224 E. Valencia Drive); Wilshire School (315 E. Wilshire Avenue); Fullerton College's first buildings (321 E. Chapman Avenue); and the Commonwealth Post Office (202 E. Commonwealth Avenue). While some of these building projects used architectural styles familiar to the city's residents, others such as the schools relied on the PWA/WPA Moderne, popular for government relief projects sponsored by the Public Works Administration (PWA) and the Works Progress Administration (WPA). During this period, there was also a handful of Zigzag and Streamline (Art) Moderne buildings constructed in the city, but these styles were never particularly popular with residents or businessmen.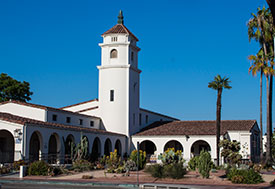 Former Fullerton City Hall (1939)
Spanish Colonial Revival
237 W. Commonwealth Avenue
After the end of World War II, there was a dramatic increase in the need for residential housing. Ex-servicemen began demanding housing of their own and plenty of space to raise children. Demand was so pent-up that developers in Fullerton could not build the houses fast enough. Firms began constructing tract homes in Fullerton in the mid-1940s, but tract development really accelerated after 1950. Developers began rapidly building modest-sized tract homes in east Fullerton and then moved into west Fullerton. However, by the late-1950s, sprawling, larger, low-slung ranch houses were marketed with subdivisions being developed in all areas of the city. The ranch house soon became the single, most prolific style of housing in Fullerton.
Also, after WWII, several modern architectural styles evolved, with their mark most notable with commercial and institutional buildings. Examples of architecture in the International style as well as those classified as Googie, New Formalism, Brutalism and Post-modernism may be seen in Fullerton. The campuses of the city's four institutions for higher education contain good examples of these types of modern architecture.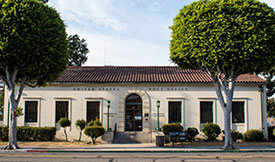 Commonwealth Post Office (1939)
Spanish Colonial Revival
202 E. Commonwealth Avenue
Fullerton now has an amazing collection of both historical and modern buildings. There are over twenty properties on the National Register of Historic Places and over 170 identified "Significant Properties", with nearly 100 of these properties designated as a Local Landmark. There are presently 10 residential districts or neighborhoods where the city has applied a preservation zone to the neighborhood to better protect its historic character. An initial survey of historical buildings was conducted in 1979, and then updated in 1996-97. This later survey, Fullerton through the Years: A Survey of Architectural, Cultural & Environmental Heritage, is available on the Fullerton Heritage and city of Fullerton websites.
The following webpage survey will provide additional, more detailed information about specific architectural styles found in Fullerton. There are also general books available that describe architectural styles, and they are useful for identifying building design in Fullerton:
Baker, John Milnes. American House Styles: A Concise Guide. New York: W.W. Norton, 1994.
Blumenson, John J. G. Identifying American Architecture: A Pictorial Guide to Styles and Terms: 1600-1945. 2nd ed. Walnut Creek: AltaMira Press, 1995.
Carley, Rachel. The Visual Dictionary of American Domestic Architecture. New York: Henry Holt, 1994.
Glenn, Patricia B. Under Every Roof: A Kid's Style and Field Guide to the Architecture of American Houses. Washington, D.C.: Preservation press, 1993.
Howe, Jeffery W., ed. The Houses We Live In: An Identification Guide to the History and Style of American Domestic Architecture. San Diego: Thunder Bay Press, 2002.
McAlester, Virginia. A Field Guide to American Houses. New York: Knopf, 1984.
Poppeliers, John C. What Style Is It? A Guide to American Architecture. Rev. ed. Hoboken, NJ: Wiley, 2003.