Neoclassical Revival
Like the Beaux Arts style, Neoclassical Revival was inspired by the mammoth Great White City of the 1893 World's Columbian Exposition in Chicago. Neoclassical Revival designs, although less ornate than Beaux Arts buildings, are still noted for their extravagant and eclectic use of historical details. The Neoclassical Revival emulated Greek and Roman architecture, looking back also at the Federal or Jeffersonian periods, but added extra classical details for both large public buildings and small temple-like dwellings. This conservative style represented stability and strength and was frequently used for banks, libraries, museums, government buildings, and institutes of learning. The style was very popular between 1890 and 1920.
The most predominant features of Neoclassical Revival buildings are massive columns and decorated capitals, usually Ionic or Corinthian. Other features of this formal style include:
Monumental in appearance, usually in a temple form
Smooth stone finishes
Full-length porches that rise to the top of the building
Balconies and pedimented porches on the front façade
Balustrades
Elaborate cornices
Symmetrical, with rectangular rooms
The style was first used on houses for the wealthy but trickled down to middle class homes in the 20th century. The architect most associated with the Neoclassical Revival is Stanford White of McKim, Mead & White, who also specialized in Beaux Arts structures. Many architects, notably Louis Sullivan and Frank Lloyd Wright, found the style too predictable and confining, so they developed counter architectural styles that were freer in form.
Unlike the popular Colonial Revival style in Fullerton, the Neoclassical Revival style was rarely used for either public or private buildings. The finest example of this style in Fullerton is the Pierotti House (1909), listed on the National Register of Historic Places, at 1731 N. Bradford Avenue. An excellent example of a one-story residence with neoclassical elements is the Kelley House (1923), a Fullerton Local Landmark, at 539 W. Fern Drive.
Read More about the Neoclassical Revival:
Bock, Gordon. "The Neoclassical Style." Old House Journal February 2002: 68-73.
Middleton, Robin. Neoclassical and 19th Century Architecture. New York: Abrams, 1980.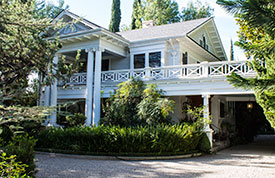 Pierotti House (1909)
1731 N. Bradford Ave.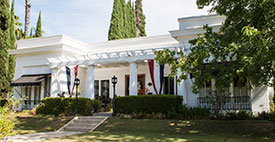 Kelley House (1923)
539 W. Fern Drive