Post-Modernism
The post-modern era is most associated with architecture appearing since the late 1970s, continuing through today. Often post-modern architecture is referred to as neo-eclectic,essentially representing a revival of period styles for houses, and an unending variety of forms and sleek, asymmetrical designs for commercial buildings. Post-modernism is based on several reactions: a rejection of modernist thought; a return to traditional, historical precedents; and a re-awakened interest in history and heritage. Post-modernism coincides quite well with both the historic preservation movement and the new urbanism movement.
In turning away from "anonymous glass box" architecture of the International style, with post-modern design anything goes, and historical features tend to be widely exaggerated. Post-modern architecture does not necessarily try to replicate historic styles of an earlier age, but instead uses a wide variety of historic forms, simplifying and mixing them, sometimes with an unorganized look and intentionally clashing forms. In many cases the designer superimposes one geometric structure upon or against another disparate form, trying to create a memorable effect.
There are only a few buildings in Fullerton with post-modernism architecture. The Hydraflow Building (2002) at 1881 W. Malvern Avenue represents the style in a large commercial building. The 4-story residential hotel at 224 E. Commonwealth Avenue exhibits a post-modern design by combining various period styles for its front façade and employing bold colors on the exterior. The single family residence constructed in 2003 at 401 Marion Boulevard demonstrates the style with a custom, one-of-kind design.
Read More about Post-modernism Architecture:
"Angels and Franciscans: Innovative Architecture from Los Angeles and San Francisco. " Edited by Bill Lacy. New York: Rizzoli, 1992.
Ghirando, Diane Yvonne. a rchitecture after Modernism. New York: Thames and Hudson, 1996.
Jencks, Charles. The New Paradigm in Architecture: The Language of Post-modernism. New Haven: Yale University Press, 2002.
Klotz, Heinrich. The History of Postmodern Architecture. Cambridge: MIT Press, 1988.
Sutro, Dick. West Coast Wave: New California Houses. New York: Van Nostrand Reinhold, 1994.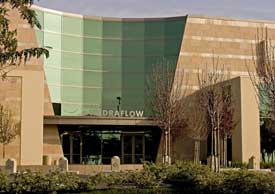 Hydraflow Headquarters Building (2003)
1881 W. Malvern Avenue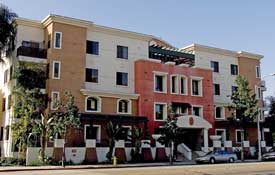 Residential hotel (2001)
224 E. Commonwealth Avenue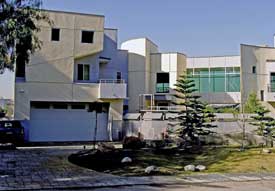 Single-family residence (2003)
401 Marion Boulevard