Minimal Traditional
Although often incorrectly seen as a non-style, the Minimal Traditional styled house is found everywhere in the nation. Popular from 1925 to 1955, the style – also known as the FHA house, the Depression-era cottage, the War Years house, the Victory house, the developer house, or the American small house – takes its name from the fact that it uses traditional stylistic references in a "minimal modern" or stripped-down manner. The style would go through several separate phases over thirty years, but it would be the last 20th century American residential style before developers took over the housing market in the 1950s.
By the 1920s, Victorian-styled residences and Craftsman bungalows seemed hopelessly outdated. For those who did not want one of the eclectic period styles popular at the time – Spanish Colonial Revival, Tudor Revival, Normandy Revival, etc. – the minimal Traditional dwelling offered a more modern, streamlined style that looked ahead to the future rather than back to the past. This innovative style took massing and details from such earlier styles as Tudor and Colonial Revival and simplified them to create a comfortable home that had little decoration but was still traditional in design. By simplifying popular styles, builders and architects offered "modern" interpretations of many of the revival styles prevalent during the 1920s. Constructing a dwelling with just enough detail to give it an identity satisfied many middle-class buyers who quickly popularized the new style. When the style began appearing in the 1920s, Minimal Traditional house designs were standardized and published in home pattern books, and Aladdin, Sears, and Pacific Ready-Cut helped to spread the style across the country. Variations of the style were used to appeal to many different buyers in many different climates. The Minimal Traditional style soon became the standard design for the basic American home with durable, plain functionality.
Characteristics of this utilitarian style are:
Relatively small, detached single-family dwelling, 1 to 1½ stories; dwellings with 2 stories compact in design
Minimum of architectural detail throughout but still traditional in design
Loosely based on the Tudor and eclectic styles of the 1920s and 1930s, but with much less ornamentation and decorative detailing
Asymmetrical
Nearly square, although often rectangular or a small "L" in plan
Boxy, with relatively flat wall surfaces; most detail in shallow relief
Low or medium pitched roof (sometimes hipped), showing front side gables with little or no overhang on the eaves
Locally available materials used for exterior finishes; primarily stucco, wood siding, and brick in Southern California
Simple wooden double hung or metal casement windows, sometimes corner wrapped; picture windows on later houses
Front door often a focal point on the front elevation; doors are often paneled with glass inserts
Small porticos or stoops, often with roof overhangs; posts simply detailed
Porches are uncommon, but when they appear, are most commonly recessed and partial-width
Simple built-ins, wood cabinetry, and woodwork
Hallways are non-existent or very small
Garages usually detached, but occasionally integrated or attached by a breezeway to the house; not dominate, usually set back from house
Often painted white or in other soft colors designed to make the dwelling appear larger
Often, but not always, includes such elements as metal awnings above windows and doors; shutters; bay windows; and/or substantial chimneys, often on the front façade
After the 1929 stock market crash, Minimal Traditional residences became an affordable response to the Depression era, because they could be economically constructed by builders across the United States. The style came into vogue in the 1930s, when the modest houses could be easily approved for Federal Housing Administration (FHA) insured home loans. The modest Minimal Traditional became known as "the little house that could" during the Depression and World War II years. It was the affordable house built with a Federal Housing Administration insured loan; it was the house that could be constructed quickly to accommodate millions of relocated World War II defense-plant workers; and it was the modest but comfortable dwelling that could be rapidly built during the late 1940s for post-World War II neighborhoods.
Although the Minimal Traditional style started earlier in Fullerton, its development mirrored what was happening across the nation. The first Minimal Traditional residences in Fullerton were constructed starting around 1919/1920, with new homes being built on Brookdale Place, Jacaranda Place, and Malvern Avenue. Architect Frank K. Benchley, known for the Muckenthaler Estate and the California Hotel (now Villa del Sol), appears to be the first building designer to construct houses in a Minimal Traditional style (e. g., 126 W. Malvern Avenue, 132 W. Brookdale Place). Benchley's homes proved to be popular, and other local builders, such as Luther J. Ellis and Arthur M. Thompson, began mimicking the style in their new dwellings (e. g., 215, 216, and 320 W. Malvern Avenue, 515 W. Union Avenue). At the same time, homeowners began selecting Minimal Traditional house designs from mail order catalogs produced by the Pacific Ready-Cut Company in Los Angeles. A good number of the factory houses were assembled on lots throughout the city in the 1920s (e. g., 623 N. Pomona Avenue, 426 W. Malvern Avenue, 201 N. Berkeley Avenue).
The 1929 stock market crash temporarily halted building in Fullerton, but in the 1930s and 1940s, the style continued to be popular. With the exception of a few contractors, such as Robert Ben Carey and Evan J. Herbert, most of the 1920s builders and architects in Fullerton had passed on, retired, or relocated, and they were replaced by a new set of builders who favored the Minimal Traditional style: Hobart A. Palmer, George Mortimer Carroll, Bill Pearson, Horace R. Blair, George C. Pickering, etc. Like building contractors of the 1910s and 1920s, each one developed a unique design style, but George C. Pickering, president of the Building Contractors Association of America, was particularly adept at adapting the style to serve the needs of his clientele (e. g., 300 Cannon Lane, 605 N. Drake Avenue, 533 W. Valley View Drive). During this time, dozens of Minimal Traditional styled homes were built as in-fills in established neighborhoods with older houses all around; others were often at the tail-end of existing tracts. On occasion, small building companies outside Fullerton, such as the May Building Company of Montebello or the Warfield Company of Santa Ana, would hire a local builder to construct Minimal Traditional "spec" or custom homes based on FHA-approved plans (e. g., 313 and 321 N. Adams Avenue, 114 Buena Vista Drive). While the style did not lend itself to business establishments, it was well suited to multi-housing and several duplexes and apartment buildings were constructed in the Minimal Traditional style (e. g., 416-418 E. Chapman Avenue, 317-319 and 321-323 North Basque Avenue). By 1938, when the housing program was in full swing, the average Fullerton home ranged in price from $2,875 to $4,000, with homeowners expected to have a monthly income around $250 to qualify and house payments around $30-40 a month.
Three local building contractors – the Jewett Brothers, Horace R. Blair, and City Councilman Homer B. Bemis – would develop small tracts of Minimal Traditional homes in Fullerton and other nearby cities, then go on to develop subdivisions of tract and ranch homes in the 1950s. In April 1942, the Jewett Brothers announced that they would be building 39 new homes for defense workers on W. Amerige Avenue, N. Adams Avenue and N. Woods Avenue. Sold for $4,650 to $4,750, the Minimal Traditional dwellings would be the first homes in Fullerton built to support the World War II effort. Other small tracts would soon follow. The homes were advertised as "FHA constructed" which indicated to potential homeowners that their loans would be amortized with low interest rates.
Minimal Traditional factory homes also continued to be purchased and assembled on vacant lots in Fullerton in the 1930s and 1940s, particularly those pre-cut by Pacific Systems Homes of Los Angeles (e. g., 1224 and 1321 Luanne Avenue, 616 N. Drake Avenue). New houses were in such high demand that several local companies also began publishing home building catalogs, including C. Ryt Homes, Inc. of Whittier and the Brown and Dauser Lumber Company of Fullerton.
By 1950, the style began to fade in Fullerton, and by 1955, it would be usurped by tract and ranch homes constructed by merchant builders.
Fullerton Heritage has documented well over 100 Minimal Traditional homes in Fullerton, dating from the 1920s to the mid-1950s; neighborhoods to spot a good number of 1930s and 1940s vintage homes will be found in the "Presidents" area east of Euclid Street (along N. Roosevelt, N. Jefferson, N. Adams, and N. Truman Avenues), as well as the 500 through the 700 blocks of W. Valley View Drive, and the 600, 700 and 800 blocks of W. Amerige and W. Wilshire Avenues. Photos, maps, and other information on this style will be found in the Local History Room of the Fullerton Public Library.
Read More about Minimal Traditional architecture:
Antique Home Style. Minimal Traditional Style – 1925 to 1950. http://www.antiquehomestyle.com/styles.minimal-traditional. htm
Stiegler, Ione R. Style 101: Minimal Traditional. http://isarchitecture.com/style-101-minimal-traditional/
U. S. Dept. of the Interior, National Park Service National Register, History and Education. Suburban Landscapes: The Federal Housing Administration's Principles for Neighborhood Planning and the Design of Small Houses. https://www.nps.gov/nr/publications/bulletins/01workshop/sub_landsc.htm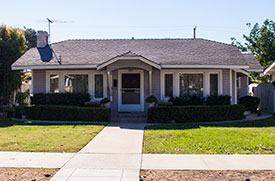 Residence (1919) 132 W. Brookdale Place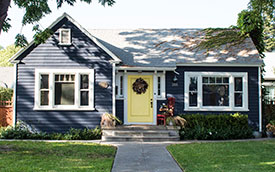 Residence (1921) 215 W. Malvern Avenue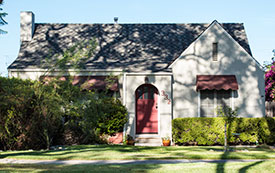 Residence (1926) 332 N. Woods Avenue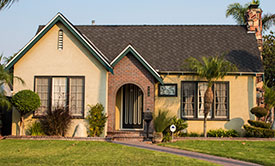 Residence (1928) 204 N. Roosevelt Avenue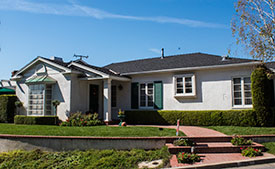 Residence (1937) 769 Ocean View Drive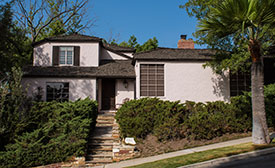 Residence (1938) 605 N. Drake Avenue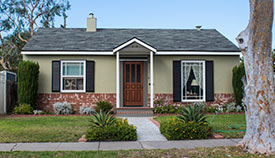 Residence (1943) 313 N. Adams Avenue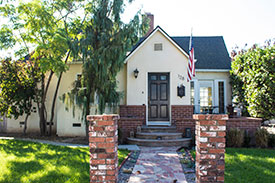 Residence (1947) 128 W. Knepp Avenue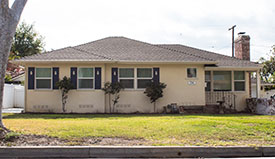 Residence (1949) 743 W. Valley View Drive