Background
This set of design guidelines was adopted by the Fullerton City Council by Ordinance 2886 on March 5, 1996 as part of an Amendment to Chapter 15.17 of the Fullerton Municipal Code. Amendment A-1430 was a culmination of considerable study and public participation. Staff of the Development Services Department - in partnership with Fullerton Heritage, a local preservation organization - first drafted proposed changes to the Zoning Ordinance to achieve two basic objectives:
1) to streamline the process of review for new construction and rehabilitation work for property in the City's residential preservation zones and 2) to establish a set of guidelines that would be used to indicate how proposed improvements should be designed in keeping with the traditional character of these neighborhoods. A public workshop was held to explain the proposed changes; the 60+ people attending this workshop, representing property owners and residents from three separate neighborhoods, voiced overwhelming support for these design guidelines. Subsequent public hearings held before the Planning Commission and City Council were remarkable for their lack of controversy, given the fact that the proposed amendment would have a direct effect on the future of three residential neighborhoods.
Residential Preservation Zones
These design guidelines specifically apply to residential properties found in three identified neighborhoods as shown by the shaded areas on the following page. These shaded areas are classified with a residential preservation zone - either R-2P or R-3P. For the properties in these preservation zones, minor construction or improvements that comply with the design guidelines may be approved by staff from the Development Services Department without further review. Only major additions or new residential dwellings proposed in the preservation zones will be subject to a more formal review for approval by the Redevelopment Design Review Committee.
The three identified residential neighborhoods are characterized by post-World War I working class housing: dwellings originally intended for households with modest or middle incomes, of which most were built between 1920 and 1940. California bungalows are the predominant architectural type in these neighborhoods, but other styles are also prevalent, especially housing with a Spanish Colonial Revival design. Many of the properties still exhibit the original housing essentially intact with little alteration or addition, despite having a zoning classification that has permitted a higher intensity of development.
In 1979, at the request of residents in these neighborhoods, the City established two new preservation zones - R-2P and R-3P - and applied them to the properties of these neighborhoods.
These zones allow more than one unit on each lot, but new construction is specified to be in keeping with the traditional character of the area. The adopted design guidelines are intended to indicate how new construction and proposed improvements to existing buildings should be designed to protect and retain the area's historical context - both the prevailing street scape, as well as the traditional building styles found in these neighborhoods.
As an underlying policy,the original architectural elements of existing residences should be retained, repaired or restored rather than replaced. If such elements cannot be repaired or recreated, the replacement should be made with the original material when possible, but when necessary, substitutions may be made with materials that match in design, texture and color. Original materials shall be proven to be deteriorated beyond reasonable repair before substitute materials can be considered.
It should be noted that there are many other historic areas or districts in Fullerton that could benefit from preservation actions such as an implementation of these design guidelines. Any neighborhood which desired to be classified with a type of residential preservation zone would be given some measure of protection from intrusive development or inappropriate design as afforded by these guidelines.
Design Guidelines For Residential Preservation Zones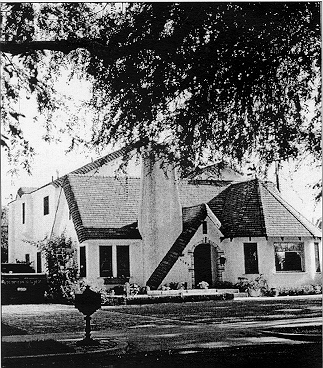 The second story addition in this photo, while massive, matches the architectural features and provides a compatible design. 1100 block of West Whiting Avenue.
These design guidelines apply to all structures within the residential preservation zones; they are in addition to the zoning standards applicable to each property. These guidelines recognize that the significance of the preservation zone results from the accumulation of historic (pre-1940) structures, rather than the architecture of isolated individual buildings. Therefore, the following criteria and standards emphasize context and compatibility with the established pattern of development in the evaluation of the design of building additions, rehabilitations or new infill structures.The primary objective is to retain and preserve features of the building site that are important to the overall historic character of the neighborhood.