Eichler Homes in Fullerton — The Forever Houses
The majority of Eichler homes were built in Northern California, but Eichler also built hundreds of homes in Southern California, most notably in Granada Hills (100 homes), Thousand Oaks (125 homes), and Orange (350 homes). While many Orange County residents are aware of the three Eichler tracts in the city of Orange—Fairhaven, near Fairhaven and Prospect Streets, Fairhills, off Santiago Canyon Road, and Fairmeadow, near Taft and Cambridge—few know that Fullerton also has a development of these quintessential California homes.
Between 1953 and 1956, over 280 Eichler homes–called the Fullerton Grove development–were built in three different phases in the southern part of the city. The residences, advertised as the Forever Houses, are located south of Valencia, between Richman and Euclid on the streets of Maplewood, Jefferson (east side), Rosslynn (north side), Richman (west side), Adams, Oak, West, Ash, Elm, and Washington.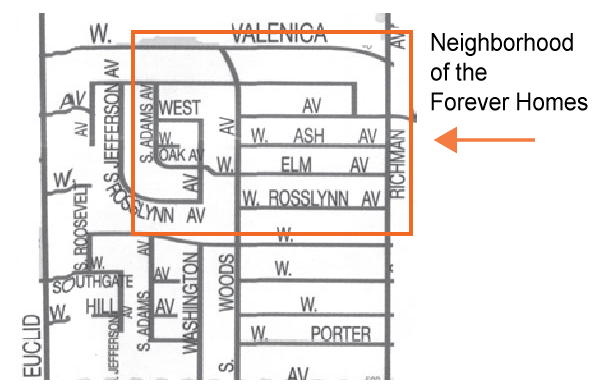 Although some of the homes have been modified or fallen into disrepair over the decades, the well-maintained ones still reflect the elements of modernism and high design that Eichler was seeking. Homes in Fullerton Grove that still exemplify the Eichler design are:
Phase 1 (500-600 blocks of Roslynn, Elm, and the south side of Ash Avenue)
506 W. Ash
604 W. Ash
610 and 611 W. Roslynn
601 S. Woods
Phase 2 (500-600 blocks of Maplewood, West, and north side of Ash Avenue)
600, 614, and 624 W. Maplewood
615 W. Ash
Phase 3 (700 blocks of Maplewood, West, Oak, Elm, and Roslynn Avenues, plus 500-600 blocks of Adams and Washington Avenues)
704 W. Maplewood
700, 705, 716 and 721 W. West