California and Craftsman Bungalows
The Arts and Crafts movement began in England in the 1880s as a protest against the excesses of Victorian architecture. Designer William Morris and others decided to replace Victorian fussiness with well-crafted wallpapers, tapestries, furnishings, and homes noted for their natural beauty, simplicity, and usefulness of design. While professional Arts and Crafts architects in Great Britain catered to a small, upper-class clientele, in the United States the movement led to a widespread middle-class demand for affordable and attractive bungalows. For many Americans, the bungalow seemed like the perfect house. The Arts and Crafts movement was further popularized by such style magazines as House Beautiful and The Craftsman. The period for this style ran from 1890 to 1920.
The word "bungalow" comes from Bengal native homes called "bangala" or "bangla." British colonists in India adapted these one-story thatched-roof huts to use as summer homes, and they became known as bungalows. The first American house to be called a bungalow was built in 1879, by William Gibbons Preston in Cape Cod, Massachusetts. In California, simple, plain bungalows (called California bungalows) were built first; they were later followed by more formal and elaborate Craftsman Bungalows. Characteristic features of the Craftsman Bungalow are:
Direct, simple boxlike shapes
1 or 1½ stories
Low gable roofs with wide overhangs and exposed beams
Natural colored paint
Stucco, clapboard, shingle, or board and batten used as sheathing
Recessed porches and entrance ways
Ample porches with square columns
Grouped windows often with decorative enhancements
Well-crafted decorative details made of wood or stone
Inglenooks
Stone or brick fireplaces
Built-in cabinets, shelving, and seating
Sleeping porches
The bungalow house also involved a lifestyle and, unlike some other styles, often included Mission furniture, carpets, wallpaper, and accessories designed to achieve the complete Arts and Crafts look.
While wood and shingle constructed bungalows may have seemed an unlikely architectural style in an area infested by termites and dry-rot, almost every town in California that grew during this period has its collection of bungalows. Los Angeles County is the bungalow capital of the world. The Greene and Greene designed Craftsman Bungalows in Pasadena are considered the apex of this style.
The California and Craftsman Bungalow was very popular in Fullerton from 1915 to 1925. Many are located within the historic residential areas of the city. Good examples of this style in Fullerton include the Livingstone House (1908) at 117 W. Valencia Drive; the Jacob Yaeger House (1910) at 200 E. Elm Avenue; the Fuller House (1913) at 150 Hillcrest Drive; the Mary Spencer House (1913) at 1520 W. Orangethorpe Avenue; the Edward K. Benchley House (1915) at 604 N. Harbor Boulevard; the Arnold House (ca. 1915) at 147 W. Ash Avenue; the Stuelke House (1916) at 502 E. Chapman Avenue; the Clarence Spencer House (1917) at 1400 W. Orangethorpe Avenue; the Lyon House (1922) at 2223 E. Commonwealth Avenue; and the Otto House (1925) at 126 N. Balcom Avenue.
Read More about the Arts and Crafts Movement and Craftsman Bungalow:
American Bungalow Magazine. Devoted to all aspects of the Arts and Crafts Movement.
The Arts and Crafts Movement in California: Living the Good Life. New York: Abbeville Press, 1993.
Connolly, M. Caren. Bungalows: Design Ideas for Renovating, Remodeling, and Building New. Newtown, CT: Taunton Press, 2002.
Duchscherer, Paul. The Bungalow: America's Arts and Crafts Home. New York: Penguin Studio, 1995.
Lancaster, Clay. The American Bungalow, 1880-1930. New York: Dover, 1995.
Smith, Bruce. Greene & Greene: Masterworks. San Francisco: Chronicle Books, 1998.
Toward a Simpler Way of Life: The Arts & Crafts Architects of California. Berkeley: University of California Press, 1997.
Stickley, Gustav, ed. Craftsman Bungalows: 59 Homes from The Craftsman. New York: Dover, 1988.
Wilson, Henry L. California Bungalows of the Twenties. New York: Dover, 1993.
Winter, Robert. American Bungalow Style.New York: Simon and Schuster, 1996
Winter, Robert. Toward a Simpler Way of Life: The Arts & Crafts Architects of California. Berkeley: University of California Press, 1997.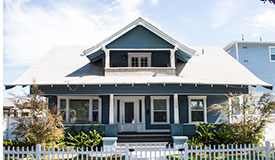 Livingston House (1908)
117 W. Valencia Drive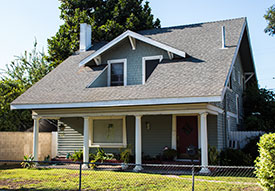 Jacob Yaeger House (1910)
201 E. Elm Avenue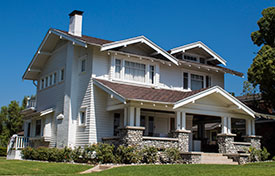 Fuller House (1913)
150 Hillcrest Drive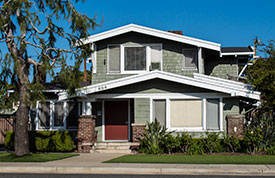 Edward K. Benchley House (1915)
604 N. Harbor Boulevard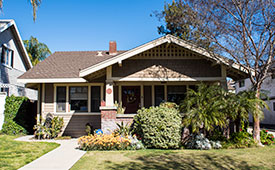 Residence (1916)
143 E. Union Avenue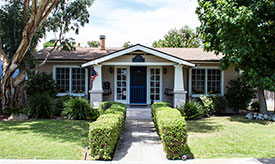 Residence (1921)
305 W. Jacaranda Place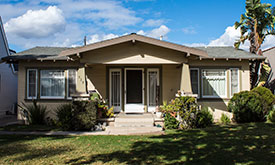 Residence (1923)
539 W. Whiting Avenue