"Green" Homes
"Green" buildings are constructed with recycled, reused, and environmentally healthy materials. Architects of "green" buildings will use environmentally sensitive materials to recreate period style residences or incorporate recycled materials into a new architectural design. The look of the building will often be dictated by the types of materials used. The overall goals of this style are energy and water efficiency, a high level of indoor air quality, and the use of construction materials that resist mold, mildew, and other allergy-inducing elements. Starting in 2020, a new residence constructed in California is mandated to be "Net Zero Energy, " meaning that the dwelling must produce more energy than it consumes. That legislative mandate is expected to increase the number of green residences in the state.
A good example of a "green" home is at 416 W. Las Palmas Drive (2002), the first residence in Orange County to be built with the Perform Wall Panel System, a cement and polystyrene material that resists mold, mildew, termites, fire, wind, and earthquakes. In 2017, ABC Green Home 3.0 opened in Fullerton at 401 S. Highland Avenue (southwest corner of Highland and Truslow Avenues). Two attached units, the project was spearheaded by Peninsula Publishing in partnership with SoCalGas and Southern California Edison in collaboration with Habitat for Humanity. Designed by Danielian Associates Architecture + Planning, the development is a contemporary "green" take on Eichler styling.
Since 2005, the California State University, Fullerton campus has focused on incorporating green design and construction elements into its buildings, and many have been honored for their sustainability. The Student Recreation Center was the first CSUF structure to be certified by the U. S. Green Building Council. Other buildings on the campus were designed to meet the equivalent of LEED – Platinum Leadership in Energy and Environmental Design certification – including the Bacon Pavilion at the Fullerton Arboretum (2005) ; Steven G. Mihaylo Hall (2008) ; University Police Building (2009) ; Children's Center (2011) ; and Student Housing (2011).
Read More about "Green" Homes and Buildings:
Duran, Sergei Costa. Green Homes. New York: Collins Design, 2007.
Giasone, Barbara. "House of Concrete: Home is 'Rising Like Legos' on Fullerton's Las Palmas Drive." Orange County Register,May 22, 2003.
Harder, Nick. "Breakthrough in Block: A Fullerton Home Showcases the Latest Advances in Environmentally Friendly Construction." Orange County Home Magazine February 2004: 41-43.
Low, Nicholas. The Green City: Sustainable Homes, Sustainable Suburbs. New York: Routledge, 2005.
Roberts, Jennifer. Good Green Homes. Salt Lake City: Gibbs Smith, 2003.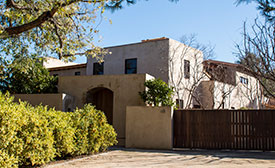 Single-family residence (2003)
416 W. Las Palmas Drive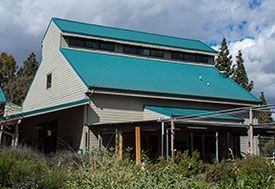 Bacon Pavilion (2006)
Fullerton Arboretum - CSU Fullerton campus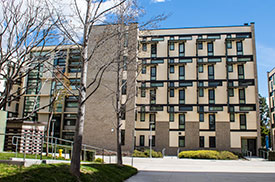 Student Housing (2011)
CSU Fullerton campus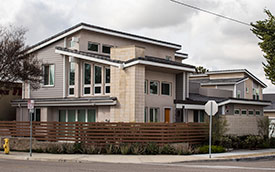 Duplex (2017)
401 S. Highland Avenue