Tiki Modern
Tiki-styled buildings were part of a nationwide trend that once encompassed Polynesian Pop-influences on architecture, music, food, clothing, and entertainment from the 1940s to the 1970s. The Tiki Modern style reached its zenith just prior to and after Hawaii became the 50th state in 1959. The whimsical and kitschy style was intended to evoke architectural traditions gleaned from various Pacific Island cultures. By 1968, people began to lose interest in Polynesian pop, but lately tiki-lovers have tried to bring back the fun style.
Tiki architecture began in Southern California with the opening of the Hollywood restaurant Don the Beachcomber in 1934. The eatery featured flaming torches, carved wooden statues, and colorful rum-based drinks, such as the Zombie and the Mai Tai. As World War II servicemen returned from the South Pacific, their stories fueled the fad for Polynesian-themed kitsch, which inspired bars and other architecture throughout California, everything from bowling allies to apartments to trailer courts. It was very much a romanticized version of South Pacific Island culture, and books such as Michener's Tales of the South Pacific and Heyerdahl's Kon-Tiki fueled the mystique. The most prevalent symbols were tikis, carved wooden and stone statues found across the Pacific, from Hawaii to Easter Island to New Zealand.
Characteristics of the Tiki style:
Exteriors and interiors designed to evoke a South Seas atmosphere
A-framed, circular or other geometrically-shaped buildings designed to mimic Pacific Island homes or buildings
Exterior wood plank siding, natural stone, especially lava rock, and earth-colored concrete bricks
Sway-back roofs with plain or decorative corbelled wood poles or squared ridge beams on rafters; beams and rafters often ended in canoe-bow finials or wooden poles
Thatch, wood shake, or rock roofs
Polynesian-inspired wood, stone or cast concrete Tiki totem poles or moai statues as decorative elements; accents include bamboo walls, wooden heads, weaved mats, shells, wall masks, torches, etc
Landscaping contained semi-tropical plants, such as palms, plumeria, and hibiscus, along with waterfalls and pools set amid rock boulders.
Many Fullerton residents embraced Polynesian Pop by wearing Aloha shirts, adding Tiki bars to their backyards where exotic drinks were served, and enjoying themselves at luaus and other Hawaiian-themed events. During the 1950s and 1960s, a number of developers, such as President Homes, offered homes with Hawaiian or Polynesian-themed elements, along with other styles to choose from, including Hacienda Ranch, Colonial, and French New Orleans. The President Homes tract is the neighborhood north of E. Bastanchury Road, east and west of Puente Street. In 1962, the Nelarn Company, working with the Sant Construction Company, also built a number of Tiki homes mixed in with other styles. The Nelarn Tiki homes (e. g., 2931 Hemlock Place) will be found in the neighborhood just east of Brea Boulevard and north of Rolling Hills Drive (Birch Place, El Mirador Drive, Ponderosa Avenue).
In the 1960s, the style was used more in the design of multi-family residential developments. The names of the Fullerton apartments and townhouse developments reflected the Tiki style: The Blue Lagoon Apartments, Kona Sands, Tropical Isle Apartments, Mauna Loa Garden Apartments, Palm Gardens, and Coco Palms. When the Tiki fad faded, owners of these apartment buildings removed or muted many of the Polynesian Pop elements, but two townhouse developments – the Coco Palms (1800 E. Commonwealth Avenue) and Village Townhomes (301-315 N. Acacia Avenue) – and the apartment complex at 2016-2024 East Chapman Avenue still retain many of the original architectural features.
Read More about the Tiki style:
Henderson, Jason. California Tiki: A History of Polynesian Idols, Pineapple Cocktails and Coconut Palm Trees. Charleston, SC: History Press, 2018.
Kirsten, Sven A. The Book of Tiki: The Cult of Polynesian Pop in Fifties America. New York: Taschen, 2000.
Teitelbaum, James. Tiki Road Trip: A Guide to Tiki Culture in North America. Santa Monica: Santa Monica Press, 2003.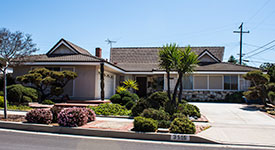 Residence (1962)
3116 Firethorne Avenue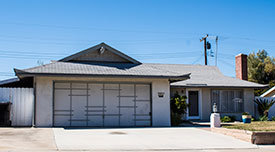 Residence (1962)
2931 Hemlock Place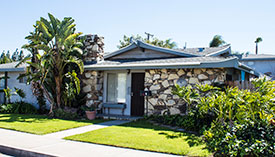 Apartment Complex (1962)
2016-2024 E. Chapman Avenue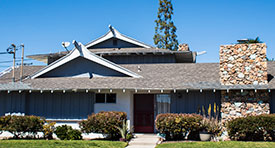 Village Townhomes (1962)
301-315 N. Acacia Avenue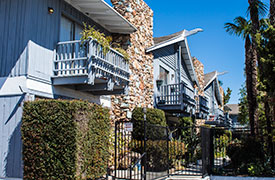 Village Townhomes (1962)
301-315 N. Acacia Avenue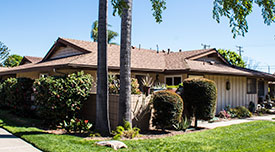 Coco Palms Townhomes (1963)
1800 E. Commonwealth Avenue