Midcentury Modern
Author Cara Greenberg coined the phrase "midcentury modern" as the title for her 1984 book, Mid-Century Modern: Furniture of the 1950s. The term has generally been used to define architecture, furnishings, and graphics from the middle of the twentieth century, covering 1945 to 1980. Other historians narrow the time period from 1947 to 1957.
Like the Victorian period, Midcentury Modern encompasses a wide variety of styles (e. g., Eichlers, Googie, A-frame, California Modern, International, etc.). The style is particularly associated with forward-thinking California architects, including Albert Frey, Craig Ellwood, Richard Neutra, William Krisel, E. Stewart Williams, A. Quincy Jones, Frederick E. Emmons, William Pereira, and Skidmore, Owings & Merrill. The style was used on thousands of single-family homes, but can also be found on commercial structures, hotels, apartments, and other types of structures.
Characteristics of Midcentury Modern buildings:
Flat planes, with long, low-slung exteriors
Changes in elevation
Residences are generally one-story with open-concept layouts
Sliding glass doors, large windows, glass walls, interior courtyards and atriums designed to bring the outside in
Use of natural materials in interior spaces, such as exposed beams, wood-paneled walls, concrete and stone features
Flat roofs are common; overhanging eaves of low-pitched roofs appear to be a continuation of interior ceilings
Recessed and protected entries ("discrete to the street")
Rooms have multiple outdoor views or multiple access points
Minimal ornamentation; uncluttered and sleek lines with both organic and geometric forms
Juxtaposition of different and contrasting materials
By the 1970s, Midcentury Modern began to wane, but since the mid-1980s there has been a renewed interest in the design features of the Midcentury Modern era, and the architectural style is once again becoming popular. Events, such as Modernism Week in Palms Springs, have helped to boost its appeal.
After World War II, Midcentury Modern became quite popular in Fullerton. A number of manufacturing plants employed the style, notably in the administration buildings of Beckman Instruments, Inc. (1954) at 4300 North Harbor Boulevard, listed on the National Register of Historic Places, and the Kimberly-Clark Corporation (1957) at 2001 E. Orangethorpe Avenue, designed by Skidmore, Owings & Merrill. The style can be seen in a several small commercial buildings, such as 504-510 West Commonwealth Avenue (1954) and 925 S. Harbor Boulevard (1965).
Midcentury Modern residences are often interspersed within or at the tail-end of neighborhoods filled with Ranch-styled residences, such as 1950 Skyline Drive (1955) designed by architects Armet and Davis, known for their Googie restaurants. In the mid-1950s, the local construction firm C. O. Bergum & Son constructed several Midcentury Modern residences in the 500 and 600 blocks of North Cornell Avenue (e. g., 537, 549, 550, 607 N. Cornell Ave.).
Read more about Midcentury Modern architecture:
Clarke, Ethne. The Midcentury Modern Landscape. Layton, UT: Gibbs Smith, 2017.
Dietsch, Deborah. Classic Modern: Midcentury Modern at Home. New York: Simon & Schuster, 2000.
Faibyshev, Dolly. Palm Springs Mid-Century Modern. Atglen, PA: Schiffer, 2010.
Lubell, Sam. Mid-Century Modern Architecture Travel Guide: West Coast USA. London: Phaidon, 2016. Covers Los Angeles, Palm Springs, San Diego, San Francisco, and the Pacific Northwest
Smith, Elizabeth A. T. Case Study Houses. Los Angeles: TASCHEN, 2016.
Whybrow, Lauren. From A to Eames: A Visual Guide to Mid-Century Modern. Victoria, Australia: Smith Street Books, 2019.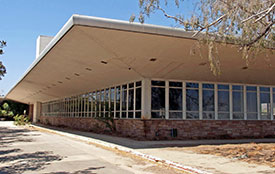 Beckman Instruments Administration Building (1954)
4300 N. Harbor Boulevard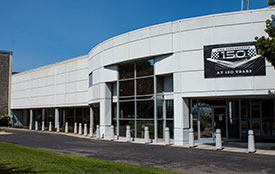 Kimberly-Clark Administration Building (1954)
2001 E. Orangethorpe Avenue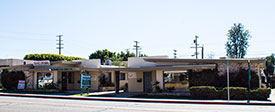 Commercial building (1954)
504-510 W. Commonwealth Avenue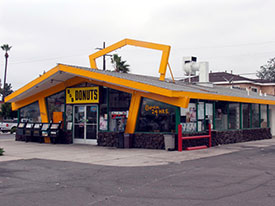 B & B Donuts (1965)
925 S. Harbor Boulevard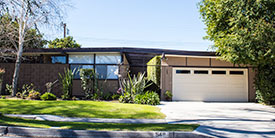 Residence (1958)
549 N. Cornell Avenue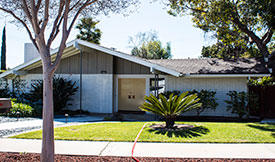 Residence (1958)
418 El Adobe Place